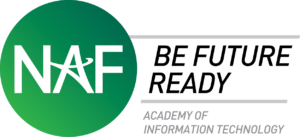 The Academy of Information Technology (AOIT) prepares students for the ever-expanding digital workplace and to the career opportunities offered in programming, database administration, web administration and other fields of study that require a strong foundation in mathematics, science, language arts and social studies. Curriculum for the Academy of Information Technology contains essential content based on expertise from leaders in the hospitality and tourism industry.
Courses include:
Introduction to Information Technology
IT Programming/Database
IT Technical Support/Networking
IT Web/Digital Media

Information Technology Internship
Along with their required courses, AOIT students can take dual enrollment courses while still in high school.  Every student is encouraged take at least two years of foreign language.  AOIT students work as interns at firms specializing in IT as well as in IT departments in various corporations and industries.